jinian
Ice Song, Kirsten Imani Kasai.
In a future world populated by animal-human mashup people and humans who are jerks about them, the protagonist involuntarily changes sex at times of great stress and can't access memories from the other format. While this is kind of a problem, she has a bigger one: her babies have gone missing. Readable, though never the kind of gender-interesting I wanted, with an odd Barbarella-like sequence in the castle of the libertines and a resolution through self-integration.
Beauty Queens, Libba Bray.
I knew going in that Bray's humor likely wouldn't work for me, since I found Going Bovine tiresome and unfunny, but this is on the Tiptree Honor List for the year so I thought I should check it out. It's well worth the read; contestants for a beauty pageant, with a variety of motivations, crash-land on a tropical island where skulduggery is present. Dark, but with good relationships among the girls, some race awareness, and plenty of pageant meta.
Blackston Gold, Sylvia Kelso.
Time travel romance/mystery involving a ruggedly charming gold miner and a good modern lawyer (who has some seriously badass lady backup). Pretty good.
Azumanga Daioh: Hoshuu-hen, Kiyohiko Azuma.
10th anniversary bonus materials! Strangely the first two chapters of it were not that good, but the 12th grade section was gold. And it contained this: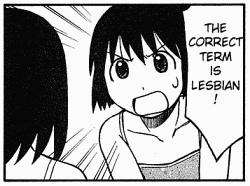 which I totally want on a t-shirt. (Risky, though, as anyone who properly appreciated the t-shirt would have to MARRY ME despite that being from another show.)
7 Seeds, Yumi Tamura.
Ongoing, through chapter 103. This series has damaged my productivity for the last three days, because any time I was not reading it I wanted to be. Five teams of 7 teenagers each are sent into the post-meteor-impact future of Japan separately, and rather high-quality drama ensues. Bookelfe recommended it for the realistic menstruation, among other things, and I totally agree, it's the best I've ever seen on that. It's right on the edge of my ability to retain a sense of who all the characters are, but the art is helping a lot. (I had been concerned I'd bounce off this due to the drawing style, but it's changed enough since Basara that I can look at it now. Modulo the hilarious ENTIRE PAGE OF AMORPHOUS DOOMSPARKLES occasionally, it is working for me.) Overall, great!
The Clockwork Rocket, Greg Egan.
Some people have complained that Egan has trouble writing believable humans, and here he doesn't. Problem solved! He still plays with physics, though, diagrams and all, and half the fun of the book is in figuring out just what strangeness he has perpetrated upon the laws of nature. An unusual child, Yalda becomes an engineer despite most women having babies instead (a zero-sum choice in this world), leads an intellectual, radical life, and saves the fucking world -- or at least starts the process by which it might be saved if science continues apace. Really looking forward to the rest of this series.
Saints Astray, Jacqueline Carey.
So this is fluffy bandfic. I kind of enjoyed it due to reading at a time of no brain, but it is slight and fails to fit with previous stuff, and in retrospect it makes me sad. Don't expect another Santa Olivia here.
Sword, Da Chen.
Realistic heroic-historical novel with a young female protagonist, interspersed with random bouts of over-the-top wuxia fun. The ending turns a lot of it onto its head in a good way.
Raven's Shadow
and
Raven's Strike, Patricia Briggs.
For a duology titled after a woman mage (or two), it has a curious concentration on the men she knows. Not usually a problem for Briggs. The books are engaging and sport a fun magic system supporting lots of textual investigation.
Wolf Star, R.M. Meluch.
This is a little confusing given the timeline-rearrangement from the last one, but I sorted it out. Ongoing mil-SF conflict between the Space Romans and the Space Americans is actually producing pretty good narrative most of the time. I definitely liked Calli Carmel being awesome in this one, but I am officially tired of the guy pining over good, slutty Marine Kerry Blue (and starting to suspect the author is casting herself in that role). Also: if you have only one person in your book specified as being Asian,
could she please not be an evil spy stated to look like an insect WTF
?